Submitted by Ian Fisher on Tue, 09/10/2013 - 09:59
Posted in
Controversy is as common in the video game industry as it is in other key facets of entertainment or mediums. It's almost part of human nature to debate things that surface and in some cases go into full arguments as to the validity of something or if it actually has a right to exist to an extent.
Besides the misinformed mainstream media debate that surrounds the depiction of violence in games and the affects it may have on those who play it, specifically young children, it's a rather regular occurrence for there to be a hubbub of some kind in the video game industry.
One aspect that has always gotten a fair amount of attention, justifiable or not, is how female characters are portrayed in video games. Now I've already shared my personal feelings on the matter when it comes to the depiction of women in fighting games, though now the subject matter has a greater spotlight shined upon it – this time fueled by legendary game creator Hideo Kojima.
As some of you may have noticed last week, Kojima commented that the design for the female sniper Quiet in Metal Gear Solid V: The Phantom Pain was somewhat created with the potential for cosplay and merchandising in mind; at least in the sense to make the character iconic in her look and immediately memorable. This of course got some people talking as to whether Kojima was up to his old tricks, specifically that of trolling people, or if he had gone off the deep end too much in regards to playing up certain elements in the hopes of getting a bigger audience, a thing which altogether seems to be present in the more user-friendly elements that MGSV is being designed with.
The initial comments made by Kojima were somewhat brushed aside quickly considering the talent he has, but 343 Industries Designer David Ellis took a stance on the matter rather publicly by making a Tweet. Stating, "This character design is disgusting. Our industry should be better than this", Ellis' comments were somewhat honest to the core yet it raised a greater question: does the games industry totally need to re-evaluate how female characters are depicted in this day and age?
Once entirely fueled by the desires of those in the male demographic, the games industry has changed greatly, not just in the last ten years, but the last three years as a whole. We've already seen a greater amount of women join the games industry in key positions, whether it be Community Managers like Abbie Heppe at Respawn or Ubisoft's Jade Raymond. Such a thing does show that in some ways that the industry as a whole has changed in the inner workings that are present, yet here we are with the debate of how women are portrayed in games reaching an almost critical mass via Metal Gear Solid V.
Being a chap that loves it when people in the industry express their honest feelings no matter what the consequence may be, I really didn't have a problem with what David Ellis initially said. After all, the man is entitled to his opinion and it's one which can somewhat be considered "valid" to a degree considering his background in the industry. But if one were to look deeper into the issue and the comments made by Ellis, it may be a situation of the pot calling the kettle blue; essentially it's stating the obvious and in some ways may have be a bit contradictory considering its origins.
Again, I'm perfectly fine with what Ellis said since it what the man felt at that moment, but should he be the immediate champion for the movement of change considering that Halo isn't really any better at how female characters are depicted? Yes, Halo has always featured some strong female characters whether they're battle hardened Spartan warriors or scientists, but we best not forget that Cortana, a key character within the franchise, has gone from being a rather simplistic blue A.I. hologram to a rather detailed, and buxom, program that in in some ways is obviously playing up the sexy factor – despite such a thing being a bit silly considering that she's an A.I. program for a soldier.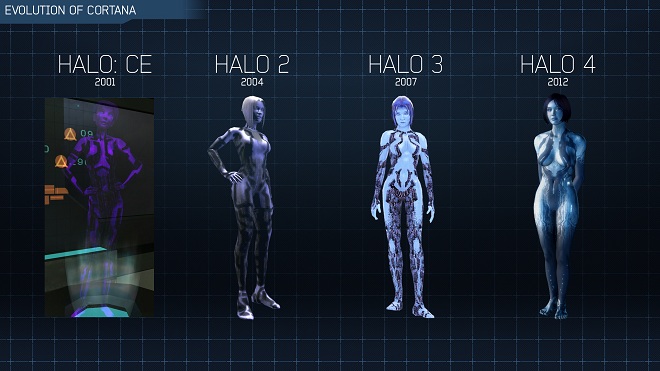 So while Ellis may have a bit of self-reflecting to do about how female characters are portrayed in the game he's associated with, the big question still remains as to whether a massive overhaul needs to be done. In recent years we've seen some games wise up to the attitude change which has happened lately since iconic characters such as Lara Croft no longer trot around the jungle or tombs dressed in a pair of 6" inch long shorts all while her 36DDD bust is barely contained. The change Lara Croft herself has made in becoming a more realistic heroine is good and all, but it's still one small element of an industry that is massive and in some cases is rather embarrassing in what it does.
With most female characters in games being relegated to the damsel in distress type or those that are merely meant to prance around making pleasing eye-candy, the anger or frustration that some people have about things is entirely justified. Like I said earlier, the fighting game genre as a whole is rather embarrassing at times since there's really no point as to why a character should walk around wearing chaps, a bikini, and a cowboy hat. Sure, things may not be taken seriously in context and people who play that game may know what they're getting, but ultimately it does create a rather obvious blemish on the industry which when looked upon from an outsider, or even those within the biz, may do rather considerable harm as it's yet another stopping block of sorts in holding video games down from being taken completely serious rather than continued to be looked upon as the playthings of adolescent boys or twenty-something manchildren.
Opting not to stay silent about the criticisms concerning the MGS V character Quiet, Hideo Kojima took to his Twitter to share his thoughts on the matter. Sharing his thoughts in a series of Tweets, Kojima said, "I created her [Quiet] character as an antithesis to the women characters appeared in the past fighting game who are excessively exposed. "Quiet" who doesn't have a word will be teased in the story as well. But once you recognize the secret reason for her exposure, you will feel ashamed of your words & deeds."
Basically, Kojima played the hand of "shut up since you don't know what the context is". That in itself may be an easy way out of the current argument, but we obviously don't know a lot about what MGS V has in store for us, the general plot, or the backstory/motivations of the characters so perhaps the core of Quiet as a character will make sense.
It is hard to in a way fully accept why a character may prance around the battlefield wearing nothing but a bikini and tattered garments as she wields a sniper rifle; that's unless we chalk it up to the typical Kojima/MGS craziness that we've seen from the series in the past. Considering that this is the franchise which gave us the mildly revealing design of EVA, which was suited for her "do whatever it takes to accomplish the mission" nature of the character, the design of Quiet may make sense to a degree and given the context of what is actually transpiring within the game.
Ultimately the debate about how female characters such as Quiet are designed can be looked upon in two ways: 1. It plays up to the desires of the male audience rather than finding a good middle ground for the now diverse group of people who play games, 2. Maybe we just shouldn't be too serious when it comes to the sexuality, however blatant it may be that's on display in games.
Okay, it may sound like I'm doing a bit of back-peddling on the general argument at hand, but I can understand the perspective that some people may have in regards to how we shouldn't get too up in arms if a character shows a bit of skin. Obviously that sentiment may not be one that's felt by a unified group of people since places like Europe are more open in the expression of sex compared to places like the almost puritan, and mildly contradictory, repressed country that is the United States.
Maybe it should be looked upon in a game by game basis, but in some cases a game, and in particular the people who made it, may know what it's doing by featuring a character that may be a bit buxom or is revealing in what she wears. A perfect example of a game that totally knows what it's doing, and is mostly right in its decisions, is the Grasshopper Manufacture title Killer Is Dead. With the Gigolo missions of the game raising a bit of flack due to what was depicted, the game as a whole had a tone that while serious still had a feeling of being hyper-stylized and moderately silly, thus it shouldn't alarm anyone when a sexy nurse character pops out of a box and shows some cleavage. After all, should we have the attitude in some games that all female characters should be totally covered in their design, almost to the point where it may be akin to wearing a Hijab in which only an "acceptable" amount of flesh may be scene?
Of course the greater issue may simply be how often, and in what method, female characters are used in video games. More often than not it's in a way that's sexualized, but with MGS V I doubt the purpose of Quiet as a character will merely be for Big Boss to engage in Mac Daddy mode once he meets her. So we should likely get off Kojima's back for now regarding Quiet until we see more of her in action within the game, but where does that leave the rest of the industry?
Honestly, I think we may be in a bit of a quandary when it comes to having strong female characters within games, at least in a prominent way, since the underlying line of thought amongst the industry (specifically publishers) is that games sell to men the most, and that a title starring a female protagonist won't sell unless it's Lara Croft or there's an obvious gimmick to everything.
Such was the case for Black Lotus, the original concept for what would become Sleeping Dogs. Originally conceived with a female protagonist in mind, Black Lotus was changed from being an IP to a reboot of the True Crime series when it was under the publishing label of Activision. Perhaps such a thing may not have been the case if the project originally started out at Square Enix, but in all likelihood we probably would've seen the same thing transpire since the common ideology at hand is that people aren't interested in playing female heroes.
In the end I think an immediate solution to the current status of female characters in video games won't be found anytime soon. Until there's a new breakout game starring, or at least having a woman in a prominent position, we will probably continue to see women in games play second fiddle to the men. That aside, I do think the industry can still alter how they may go about designing female characters.
We may not see too many buxom gals in games as we once did in the mid-1990s, but things are still in an odd place as far as the chief role of women in games being immediate eye-candy for the player. Some guys and gals out there may be fine with such a thing and enjoy it for what it is, though it would be nicer if we had more characters akin to Ellen Ripley (Alien franchise) or Kara "Starbuck" Thrace rather than the dull two-dimensional characters we often see in the games we play.