Submitted by Ian Fisher on Wed, 06/19/2013 - 09:20
Posted in
Slowly but surely the evolution of video games is about to happen. Now I'm not referring to the power developers will have when using the advanced tech of the PlayStation 4 and Xbox One to create worlds that are more believable due to higher polygon counts, better A.I. and more realistic physic systems. I'm instead talking about how we're slowly entering the stage in which developers are finally taking chances when it comes to the narrative content found in their games.
For ages there was a barrier as to what a developer could attempt to do with the plot and general themes of a game, but now it's none other than Hideo Kojima and Metal Gear Solid V: The Phantom Pain that could change our perceptions as to what sort of tales can be told in a polygonal world.
Even though games have evolved tremendously over the years in various ways there always seemed to be the impression that certain subjects couldn't be approached or were best left for the world of live-action entertainment due to the "believability" that medium provides. Of course such a feeling, which was felt by developers who were afraid of publisher mandates and gamers who merely wanted to save the kingdom once again, prohibited games from in a way evolving past their current confines. Yet just like any entertainment medium, the tastes of the audience either changes completely, matures, or evolves to allow some freedom and new things to rise to the forefront.
After all, the gamers who grew up playing Mario and Sonic are now in their late 20s/early 30s and aren't in Peter Pan mode as their tastes have matured, either because of new experiences in the world of gaming or even those that have directly impacted their life – such as becoming a parent for the first time. Even the current generation of gamers, those reared on Call of Duty, are beginning to evolve themselves, thus ensuring that we may not have to further tolerate the same old crap for much longer; and in turn developers can tackle otherwise "taboo" subjects that wouldn't been addressed five years ago let alone a decade ago.
Now I won't get ahead of myself by thinking that games are on the cusp of a new wave movement which will see old genres abolished or change into something that they shouldn't be. At the end of the day I always want to play an old-school experience and will relish the opportunity to do a 25 hit combo in an action game or blow up an entire building with one move. Yet as Hideo Kojima showed us last week with the latest trailer for Metal Gear Solid V: The Phantom Pain, there's plenty of room for games to address otherwise "heavy" material to make an impactful experience, that's of course if it's done in the right way.
If you haven't already seen the extended MGS V trailer, which clocks in at nine minutes, then I suggest you watch it. Seriously, stop reading this for a minute and click on the video above to watch it since it's some pretty amazing, and rather graphic, stuff. Besides being wowed by the directing and visuals of the trailer what amazed me the most was that it seemed as if Kojima wasn't holding back at all. We all know at the end of the day Kojima can do whatever he pleases, yet the scenes in the new MGS V trailer showing people being tortured, children being attacked, soldiers who aren't even ten years-old, or one character seemingly being used as a drug mule of some kind, showed that Kojima wasn't going to pussyfoot around any subjects he wanted to address.
This new direction for the Metal Gear series, that of having more realistic themes that are essentially unfiltered, not only made me wonder what we could expect from The Phantom Pain, but what the overall resonating effect of it could be on the games industry. Already I can see those in the mainstream press reviling the game for depicting child soldiers within a video game, but its impact could at long last usher in a wave of games that finally step up to the plate and give us the experiences we deserve to have rather than some hackneyed action game we've already seen forty times.
Of course even within the video game industry there's bound to be some controversy, or strong opinions, about what Kojima is doing in The Phantom Pain. Seeing people tortured isn't going to be a an experience for everyone within a game, especially considering that it seems like everyone in The Phantom Pain is going to get their ass handed to them whether it's Big Boss losing an arm, Kaz losing an arm and an eye, or new characters such as Quiet and Emmerich getting the crap beat out of them. I don't think anyone is jumping to conclusions right now concerning whether or not Kojima is doing too much within the game, but for me it sends a very strong message that we shouldn't look at games with this one-note mentality anymore. Yes, at the end of the day a game is supposed to entertain us, but what says it can't make us think or even feel deep emotions while we play?
The defining factor that will either make the more "taboo" elements of MGS V (kid soldiers, torture), succeed is how it's presented to us. Based on what the trailer showed it seems like Kojima isn't holding any punches, but of course we only saw small snippets of a game that could very well have over four hours of cutscenes and take 20+ hours to complete. That said, I think the best way to leverage themes such as torture is to present it in an experience that's multi-faceted and is approachable, two things that Metal Gear already is. By mixing fantastical elements, such as super soldiers or those who can summon fiery whales or shadows of the past, the more grounded elements may not be that tough to swallow, however they may stick out in the overall context of the game.
Like any experience there's a balancing act to be had when providing things to the player, whether it's stuff they can do or the content they sit back, watch, and soak into the recesses of their mind. We've already seen a few games provide tales that aren't necessarily in the realm of the normal, the most recent being Spec Ops: The Line. Serving as a commentary on war, post-traumatic stress, and violence, Spec Ops wasn't exactly hitting the player over the head with its themes as the game was just that – a video game with dazzling visuals and engaging gameplay.
Of course things could fair differently for The Phantom Pain considering there's a certain realism to its proceedings. Okay, so we may have a game in which Big Boss will hop atop a mini-mech in some top-secret installation, but the depictions of torture, particularly waterboarding techniques, seem real and could be too much for people to handle. Personally I'm excited, not in a masochist way mind you, to see these sequences since it'll evoke emotion and feelings that not many other games can achieve. Far from trying to provide torture porn akin to the Saw film series, the more dour moments of MGS V could be some of the best since it's tough to watch and it effectively does one ever important thing: it makes us care for the characters at hand.
Even if we can't control the characters in these sequences or have limited control, as was the case with Snake's torture in MGS1 or the Naked Snake scenario in MGS3, taking a chance by being ballsy and showing us another facet of war, that of forces torturing enemies for information, is one that not only is realistic but will help forge a bond between the gamer and a character that only consists of polygons and not human flesh.
It's also this potential narrative growth within MGS V that could further help the bridge for games to take on real-world issues (that of torture within war and children being used as soldiers) to help tell more impactful stories. We've already seen within the last decade how torture has gotten certain governments or military organizations in trouble, as evident by the situation in 2006 at Abu Ghraib. Of course things such as that, and the CIA using waterboarding as an interrogation technique, got people talking across the world as the matter human rights and what sort of lines shouldn't be crossed during conflict is a big deal.
By no means should video games, or any form of entertainment for that matter, trivialize things, but all together by including those type of elements, most of which are considered taboo within the games industry, we could receive an impactful way for the generation of people who don't watch CNN or CSPAN to think about things and in turn start a new wave of discussion on topics that are actually pertinent to the world.
Even more, it could lead to other developers not feeling restricted as to what sort of stories they want to tell, whether it's something that is loosely based on a real-world conflict (such as the growing escalation between India and Pakistan regarding Kashmir and other things), or other topics such as people doing whatever it takes to survive on a particular resource. Again, by no means should such topics be spurred off into giant interactive experiences filled with explosions while a protagonist sprouts corny one-liners, but there is room for games to go into more unique directions, as was shown earlier by the game 1979, a project created by a former Rockstar Games developer that is focused on the Iran revolution.
Of course I will take my hat of Kojima fandom off for a minute to address one thing: there's the chance that even within the confines of MGSV the themes that are being addressed will fall flat on their face. It's clear that Kojima and his team are striving high in every possible regard (acting, plot, visuals, gameplay), though as we've seen in past Metal Gear games a plot that has been otherwise great has been let down by elements that either felt forced or unrealized.
A good example of one element not exactly reaching the heights it should've been within the previous MGS games is the Beauty & The Beast Corps from MGS IV. Comprised of four women who were victims of battlefield violence, the B&B Corps could've been an excellent way to highlight post-traumatic stress within war and how such a thing has been amplified, or even not addressed, in a world focused on PMCs and perpetuating war to keep the profit flowing.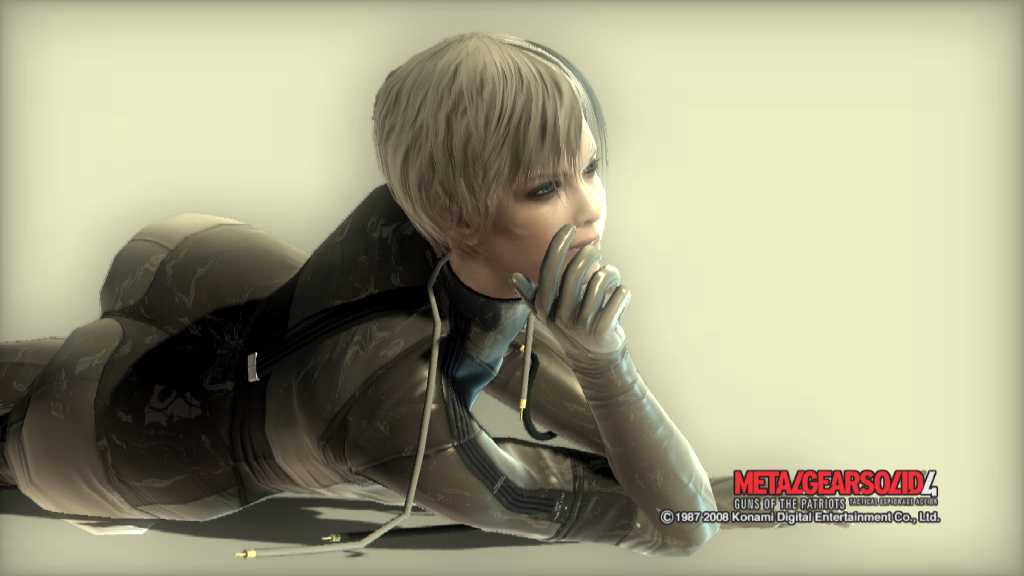 Some missed potential was had with the B&B Corps
Instead what we received from the B&B Corps in MGS IV were some cool boss battles that sadly missed out on the substance required to elevate them on a narrative front as they instead boiled down to a somewhat gimmicky inclusion that was in a way overly sexualized. There's always the chance that Kojima and his team will redeem themselves, especially since we don't have any mech-equipped octopus women within MGSV, at least not yet, but it's always good to be ready for the worse if it were to pass.
We've only seen a small fraction of what MGS V: The Phantom Pain will offer us, but it's already clear that the game is taking some risks – some of which will pay off and others that may split the gaming audience into two very different camps. What's truly exciting is that Hideo Kojima is at least trying to be different, even with this being yet another Metal Gear game, since he's tackling subjects that are entirely taboo within our culture and haven't really been explored, if at all, within a video game.
Whether or not if Kojima will succeed in what he's trying to accomplish is unknown, but one can hope that other developers will take note and perhaps try to develop games that are more daring in their execution and what sort of things we think about while we play.